2017-12-07 国家知识产权局

"With more than 30 years of development, the cooperation between State Intellectual Property Office(SIPO) of China and European Patent Office(EPO) has evolved from a technical partnership to strategic cooperation, then to a comprehensive strategic one. Right now, the two sides have established closer than ever connections. From this day onwards, SIPO and EPO will take the establishment of a new comprehensive strategic partnership agreement as a new starting point to strengthen cooperation and yield new achievements in a new era." according to Benoît Battistelli, President of EPO, during his visit to China on 21, November.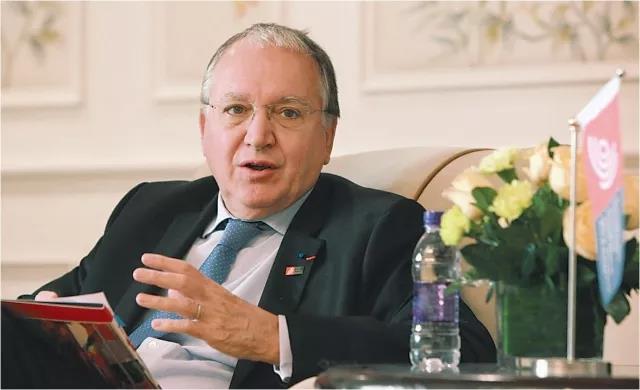 There are so many memorable events in the cooperation between the two sides. In June 1985, SIPO and EPO signed the Cooperation Agreement and officially established a bilateral cooperative relationship. Since then, pragmatic achievements have been made and the two offices have built a deep friendship at the same time. In June 2007, a cooperative partnership agreement was reached between the SIPO and EPO, enhancing technical partnership to strategic cooperation. In July 2010, Benoît Battistelli was appointed as the president of EPO. For many years, Benoît Battistelli has witnessed and further promoted the bilateral relation between the two offices. "I do hope that the two sides will take the comprehensive strategic partnership agreement as a new starting point to strengthen our overall cooperation and the exchanges in various fields. By learning from each other's successful experiences, the two offices will strive to yield more new achievements in new times." says Benoît Battistelli.
"In recent years, the two offices have conducted productive cooperation, which was beneficial to the business and economic development of the two regions. We are both now facing new opportunities brought by economic globalization and are also prepared to deal with the new challenges in the advancement of patent." says Benoît Battistelli. According to him, EPO has carried out reforms in many areas to enhance effectiveness and quality and to offer diversified services to customers. Benefitting from the high-quality services provided by SIPO and EPO, companies from China and Europe are gaining competitive advantages in global competition. Patent applications at EPO from China amounted to 7,160, grew by 24.8%, ranking the 6th among the leading application countries at EPO. Statistics show that 20% of all patent applications in the field of digital communication at EPO come from China. Among which, Huawei ranks the first for the third time. Meanwhile, it moved two places ahead to become the second-largest patent applicant at EPO. "That fully reveals the extraordinary innovation capacities of Chinese companies. In recent years, EPO continues to simplify patent application procedures and shorten examination period. Under the cooperation framework reached by SIPO and EPO, Chinese companies are enjoying more favorable environment in Europe and they are accelerating their steps to explore the European markets. EPO would like to strengthen communications with Chinese companies and provide better services to them." says Benoît Battistelli.
Plentiful and substantial achievements stem from the continuously strengthened bilateral cooperation between the two Offices and the development of the two sides. "It is so amazing that China has made so remarkable achievements in the cause of IPR in such short time. It is my pleasure to personally witness and participate in the cooperation with SIPO and help to promote the IPR development of China to a new high level." says Benoît Battistelli. He tells CIP News that two offices share the same career training and operation tools in patent examination at technical level. Also the two offices share similar views and objectives for the development of the global IPR system while facing with the same opportunities and challenges at the strategic level. From this point of view, it is now more important than ever to establish a comprehensive strategic partnership, to expand cooperation and upgrade cooperation level. "I deeply believe that the bilateral cooperation will make greater contributions to the scientific, technological and cultural progress for the two sides. The cooperation achievements between the two sides will also make greater contributions to the development of the global IPR system." wishes Benoît Battistelli. (by Sun Di)