2016-10-27 国家知识产权局

China has in recent years seen growing innovation exchanges with the economies involved in theBelt and Road Initiative, said Gan Shaoning, deputy commissioner of the State IntellectualProperty Office.
The Belt and Road Initiative refers to the development of the Silk Road Economic Belt and the21st Century Maritime Silk Road, proposed by President Xi Jinping in 2013.
Government data shows that patent filings to SIPO from 34 out of the 65 core countries in theregion increased by 20.8 percent year-onyear to more than 1,600 in the first half of this year.
"The increase reflects the faith the involved countries have in China's market and intellectualproperty rights protection climate," Gan said at a ceremony last week for the release of a seriesof reports on IP environments in the countries involved in the initiative.
Last year, SIPO received more than 3,100 patent filings from 41 countries involved in theinitiative, including some 2,800 from top 10 sources, which altogether accounted for 90.6 percentof all filings.
Among the countries, Singapore ranked first for its number of filings, followed by Israel and India.Russia and Saudi Arabia took fourth and fifth place respectively.
The lowest 19 countries in terms of filings each posted less than 10 patent applications annuallyin China.
At the same time, nearly 3,290 patent applications from China were filed in 15 countries alongthe Belt and Road routes, with IT, telecommunications and other electrical equipmentmanufacturing listed as the main sectors in which patent applications were filed.
Also among the top 10 industrial sectors for Chinese patent filings in the region were machinerymanufacturing and healthcare.
All of these are priority sectors listed in the "Made in China 2025" policy.
"The data also shows that Chinese companies are accelerating their pace of globalization," Gansaid.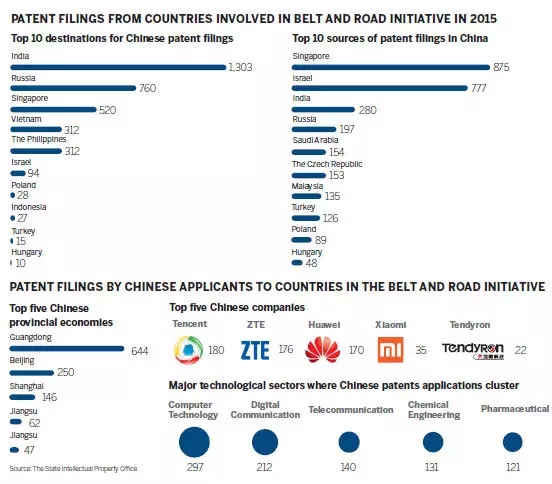 Among the Chinese companies exploring opportunities along the Belt and Road routes is ZTE, aShenzhen-headquartered telecommunications giant.
With 176 applications filed last year, the company ranked second on the list of China's top 10patent filers in the countries along the routes of the Belt and Road. It was closely after internetservice portal Tencent, which reported 180 filings, according to data from SIPO.
However, Guo Xiaoming, ZTE's chief IPR officer, told China Daily in a written response toquestions that according to his company's statistics, it has filed more patents in the region. Heput the discrepancy in the figures down to the fact that some data has not been publiclydisclosed.
Guo said,"Currently, our technological focus in the (Belt and Road) region is on fundamentalpatents concerning international telecommunications technology standards in such sectors ascloud computing, big data and 5G/4G networks, as well as other core patents related to keytechnologies in the telecommunications industry."
"Our IP strategy serves the group's businesses worldwide. Some of the countries involved in theBelt and Road Initiative are emerging markets for ZTE's businesses so they are also a priority onthe company's global IP landscape," he added.
While China is advancing cooperation in developing infrastructure such as transportationfacilities, ZTE is campaigning vigorously for the building of smart cities worldwide and it isdeploying IP resources in a variety of sectors including the IT-backed transport network, he said.
Guo also called on companies to implement IP strategies that are tailored to local markets -including trademark registration and patent filing for core technologies - before they look toexpand, in order to avert huge IP risks.
Qian Haifeng, legal general counsel at Beiqi Foton, an automobile company headquartered inBeijing, recalled the IP crisis that faced his company in Vietnam about 10 years ago. Itstrademark was forestalled because one of its local distributors had already registered it withoutauthorization.
"A trademark is the first step in an overseas IP strategy," Qian said.Qian added that the company has since increased its overall protection awareness and hasexperienced few such problems in recent years.
The countries and regions involved in the Belt and Road Initiative account for about 90 percent ofthe company's sales abroad, with a focus on the markets in Southeast Asia, Africa and theMiddle East.
Lyu Wei, director of the Department of Technology and Economy at the Development ResearchCenter of the State Council, said,"Despite a rich diversity of cultures and a wide variety ofeconomic development, the countries involved in the Belt and Road Initiative need technologicalcooperation and commonly accepted rules for intellectual property protection.
"After all, communication and connectivity are the keys to the initiative."(By Wang Xin |China Daily )
(编辑:孙雅曼,编校:秦韵,审读:刘珊,美编:蔡友良